Electromechanical Technology Associate of Applied Science
The Associate of Applied Science (AAS) in Electromechanical Technology degree equips students with the necessary technical knowledge and skills to perform the repair and maintenance of industrial machinery and equipment, such as cranes, pumps, engines and motors, pneumatic tools, conveyor systems, production machinery, marine deck machinery, and pipeline-distribution systems. This degree is a part of the Electromechanical Technology Program, and students interested in completing this degree are encouraged to complete the Electromechanical Technology Certificate of Completion first.
AAS Curriculum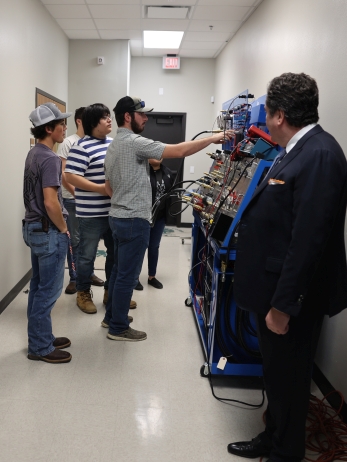 The curriculum for LSCO's Electromechanical Technology associate degree is carefully designed to meet the needs of the industry, ensuring that graduates are well-prepared for the demands of the workplace and equipped with the knowledge required to succeed in their careers. This degree also prepares students to transfer to a four-year institution to pursue a bachelor's degree in a field like mechanical engineering.
Coursework includes the topics of electrical theory, pneumatics, machinery installation, and more. Students also complete general education courses in composition, math, and cultural competencies. This program includes a capstone course that provides students with valuable exposure to real-world work environments through hands-on, experiential learning.
Program Coursework
Earn an associate degree in Electromechanical Technology in 60 credit hours by following LSCO's two-year program coursework outline.
Loading...