Library
The Ron E. Lewis Library is located in the center of Lamar State College Orange's campus. While the building is three stories tall, the actual library is housed on the first and second floors of the building. The Library building also houses the Gator Success Center, the Testing Center, and an array of campus administrative offices.
More Than Just a College Library
LSCO's strong dedication to supporting its students and the surrounding community is accomplished in part by the Library's extensive services and offerings. Learn more about the resources available for you and how your successes can be supported at the Lamar State College Orange Library.
Lifesavers!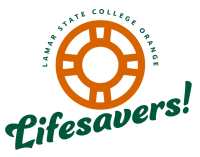 Lifesavers! are one-hour workshops on a variety of topics geared toward giving students the tools they need to succeed. Check the calendar for upcoming workshops.
Spotlight Resources