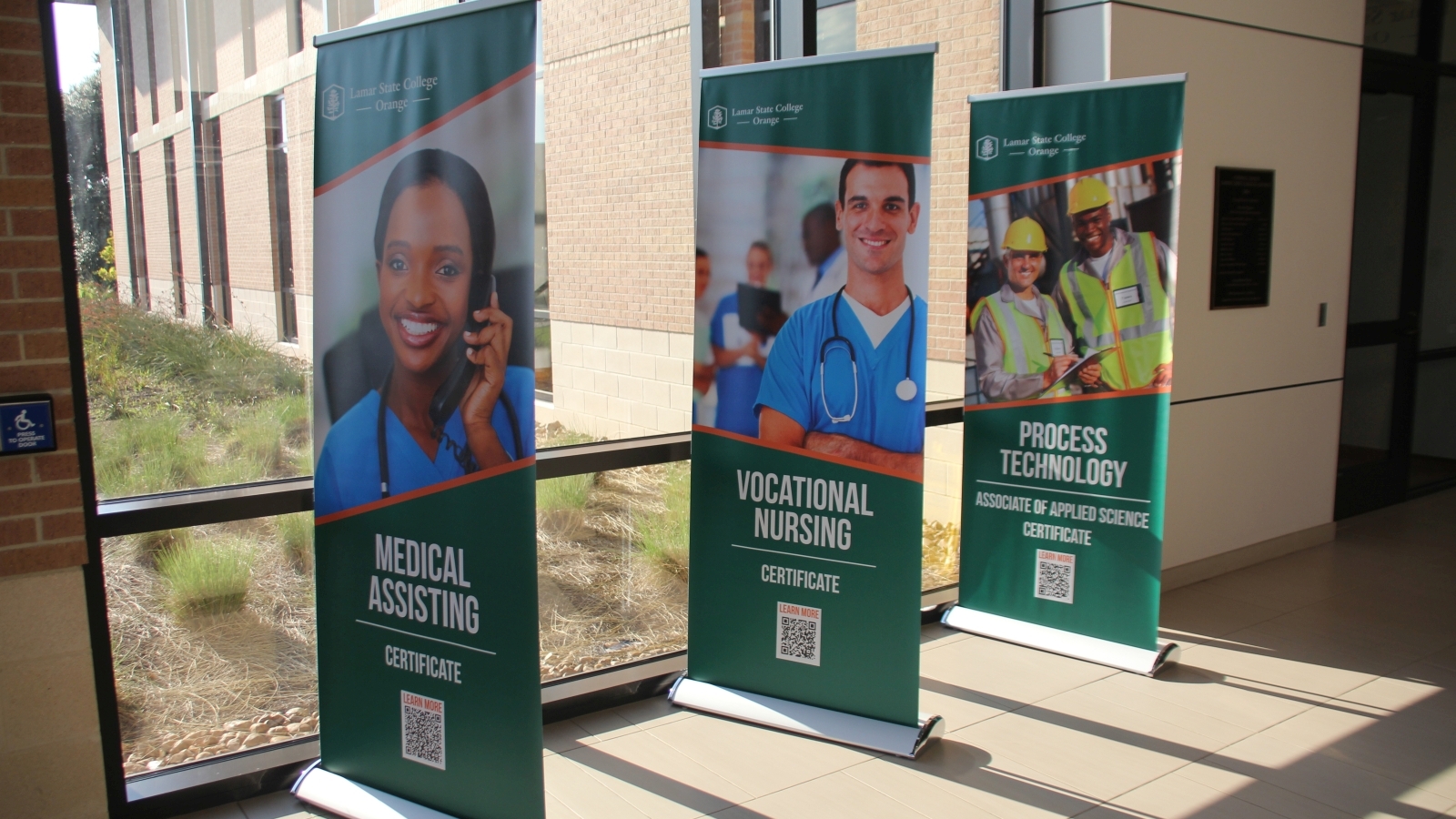 Areas of Interest & Pathways
Lamar State College Orange offers Associate of Arts (AA) degrees, Associate of Science (AS) degrees, Associate of Applied Science (AAS) degrees, Certificates of Completion, and Institutional Awards in a variety of career related fields. Each of LSCO's instructional programs falls in at least one of six designated pathways.
Apply Now for Spring Semesters!
Note: Criminal history MAY disqualify individuals from obtaining or maintaining licenses, certifications, and/or employment. LSCO awards some certificates and degrees in which a criminal history may disqualify candidates from becoming licensed, certified, and/or employed upon degree/certificate completion. Students with a criminal background enrolling in courses leading to a degree/certificate in criminal justice, Emergency Medical Technology (EMT), Medical Assistant, Vocational Nursing (VN), Registered Nursing, Pharmacy Technology, and Teaching (AAT) program are strongly encouraged to discuss the certification and/or licensing regulations of the program with the program director or dean to learn more about the current guidelines related to criminal history as well as the right of individuals to request a criminal history evaluation letter.
Completely Online Degrees
LSCO provides convenient and flexible opportunities for continuing your education and reaching your goals. There are several associate degrees and certificates of completion offered fully online; at the same time, online course options for several of our pathways are also available.
Dual Credit
Dual Credit classes at Lamar State College Orange provide qualified high school students the opportunity to enroll in college courses and earn college credit while attending high school.
Community and Workforce Education
The Community and Workforce Education department at Lamar State College Orange provides non-credit student learning opportunities for the community.
Community and Workforce Education
Distance Education
Online education offers students several advantages for completing their education. Students are able to engage in education from a distance, in the comfort of their own homes, and in a relaxed self-paced environment.
Additional Resources