LSCO, SFA Ink Student Transfer Agreement
June 3, 2019
---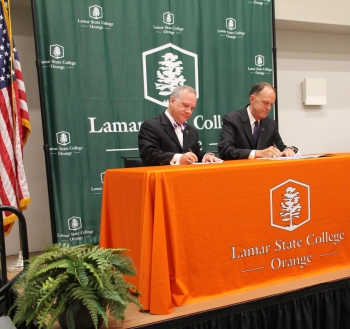 Both Lamar State College Orange and Stephen F. Austin State University have versions of the word transform in their mission statements. It seems a coincidence until the two colleges joined forces Wednesday to ensure that students' lives are transformed through a new agreement.
Presidents Dr. Thomas Johnson and Dr. Steve Westbrook, along with their Provosts, Dr. Al Barringer and Dr. Steve Bullard, signed a memorandum of understanding that outlines that credits students earn at LSCO will seamlessly transfer to SFA, saving students time and money when it comes to completing their bachelor's degrees.
In addressing the audience of both LSCO and SFA faculty and staff, Dr. Johnson expressed the need for these types of agreements to help students finish their degrees more efficiently. He noted that this agreement aligns with Governor Greg Abbott's 60x30 plan for more young Texans to become college educated.
Dr. Westbrook agreed and cited projected growth for the state that will require more jobs and, thus, more employees. This student transfer agreement ensures that LSCO and SFA are producing the type of Texans who can and will be put to work.