Encrypting Email Messages
When you need to protect the privacy of an email message, encrypt it. LSCO is now blocking unencrypted emails when they contain an individual's name in combination information such as social security number, driver's license number, or financial account number.
Encrypting an email message in Outlook means it's converted from readable plain text into scrambled cipher text. Only the recipient who has the private key that matches the public key used to encrypt the message can decipher the message for reading. Any recipient without the corresponding private key, however, sees indecipherable text.
Sending a Protected Message
Outlook 2016 or Newer (Desktop Version)
In a New email message, select Options > Permissions and then click the Encrypt-Only option
Figure 1: Selecting Encrypt-Only Permissions on Message (Desktop Version)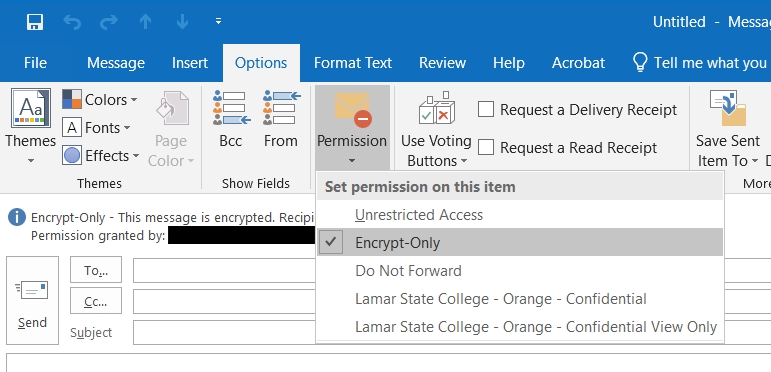 Outlook Web App
In a New message, select Options > Encrypt and then click Encrypt.
Figure 2: Selecting Encrypt-Only Permissions on Message (Web Version)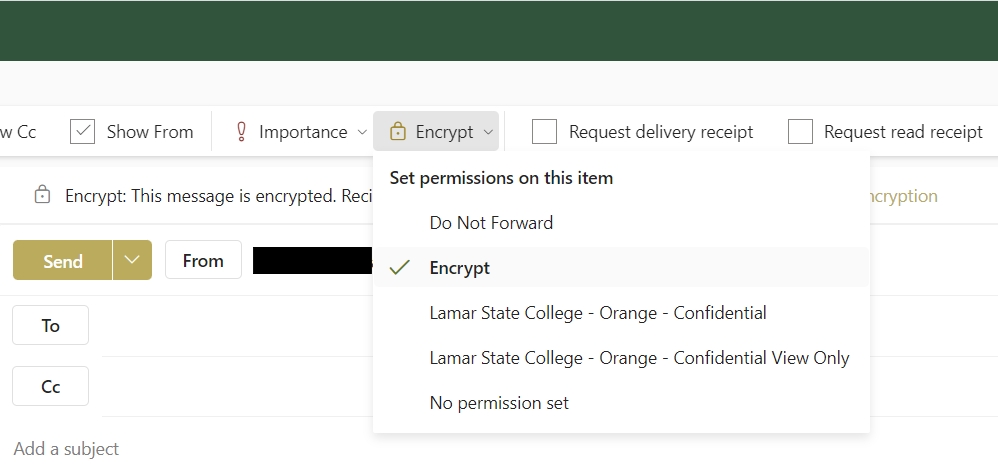 Outlook Mobile App
Message protection, including encryption, is not available natively via the Outlook Mobile App.
Reading a Protected Message
The recipient(s) will receive a message like the one in Figure 3. Please note that only the recipient(s) you send the email to can open and view the message.
Recipients using a Microsoft/Office 365 account using Outlook 2016 or newer, the Outlook mobile app, or Outlook on the web should not have to do anything special to read the message.
Recipients using Gmail will be prompted to sign into their Google account.
Recipients using another email provider will be redirected to a page where they can obtain a single-use code.
Figure 3: Protected Message Notification