Hyflex Learning
Hybrid-Flexible (HyFlex) courses utilize a blended course design that allows students to choose how they will ATTEND their class sessions. Students can choose to attend sessions in-person or live online without attending class on campus.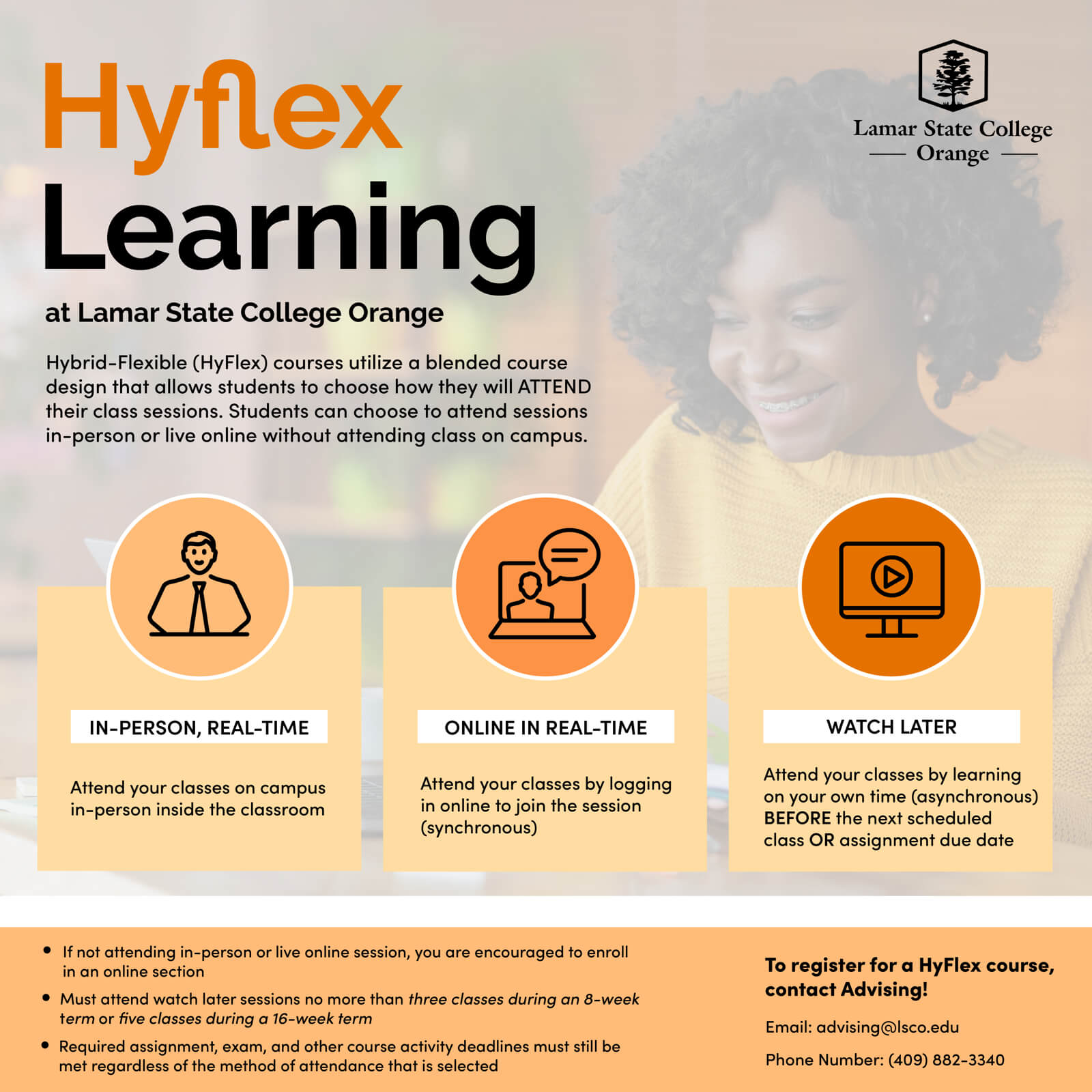 In-Person, Real-Time
Attend your classes on campus in-person inside the classroom.
Online in Real- Time
Attend your classes by logging in online to join the session (synchronous).
Watch Later
Attend your classes by learning on your own time (asynchronous) BEFORE the next scheduled class OR major assignment due date.
If not attending in-person or live online session, you are encouraged to enroll in an online section.
Must attend watch later sessions no more than three classes during an 8-week term or five classes during a 16-week term.
Required assignment, exam, and other course activity deadlines must still be met regardless of the method of attendance that is selected.
Attending Class Face-to-Face
Bring laptops or smart devices to better interact with any online students. Your instructor should let you know if this is optional.
Some students attending in-person may want to be logged into the Blackboard Collaborate or MS Teams session to interact with the online attendees. In you are logged into the online stream, be sure that your microphone is muted unless you are talking. If you experience feedback issues when unmuting, keep your microphone muted and speak towards the classroom's microphone instead.
Your instructor might ask a student in the classroom to volunteer monitoring the chat while they are lecturing. The instructor should say how they want to handle students posting questions in the chat or raised hands in the stream platform.
Attending Class Online
Log into class at least 5 minutes early, just in case you need updates or encounter issues logging in.
Your computer should be able to transmit your face and voice (mic and camera). If content is shared, you should be able to open links, download/open files, and play videos. If you're attending class in a public space or somewhere with ambient noise, it's a great idea to use headphones or earbuds instead of the computer's speakers. Review more information about Technical Requirements.
Instructors should provide instructions on expectations, how the class will be conducted, and how you should participate. This could include raising your hand to be called on, etc.
Check Blackboard to be sure there is a place for your instructor to collect your assignments.
Keep your microphone muted unless you are talking. Be mindful of noise and distractions for online students.
If you cannot hear what is being said, alert the instructor so they can clarify or repeat things.
Use the video conference chat to communicate with the instructor or other online students, as appropriate.