Yamaha Marine Service Technology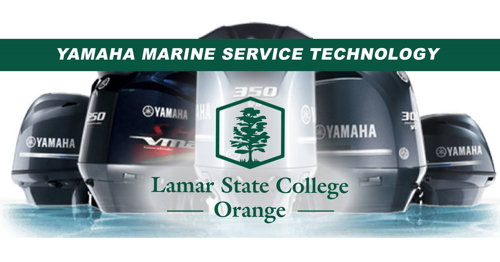 Lamar State College Orange is dedicated to providing quality instruction in Marine Service Technology. Our aim is to set the standard in training for the future growth of the marine industry. This program is designed to teach entry-level technicians all they need to know to begin a career in marine service technology. Each six-week session features classroom learning as well as hands-on, one-on-one comprehensive training and testing. Class sizes are small, allowing for optimal instructor/student interaction. LSCO is committed to helping combat the marine industry's number one challenge – finding and developing a qualified service workforce.
To register for this course, complete the Registration Form.
Upcoming Dates
October 7, 2023 - November 11, 2023
Class is held each Saturday from 8:00 a.m. to 12:00 p.m. (6-weeks) at RTR Performance Fishing and Marine located at 233 FM 1136 Orange, Texas 77630
Students
The target audience for the Marine Service Technology Program at Lamar State College Orange is individuals interested in entering the marine industry and building a career in marine service technology.
Course Information
Our 6-week Introduction to Outboard Systems (ITOS) course, is a combination of technical training materials and hands-on training. This program offers fundamental content on boating basics and the latest outboard service technology. Structured in two parts, ITOS features classroom curriculum and online modules. Technicians use course textbooks while participating in classroom lectures and labs.
Online, students progress through ten modules that can serve as study guides and will provide supplemental training. These modules can be accessed anytime, anywhere on Tech Hub at ymutechs.com. Both parts are designed to prepare students to pass the course test. Students who successfully complete the classroom training, online modules, and the course test, receive a Yamaha certification.
Program Advantages
The Marine Service Technology Program at Lamar State College Orange has the following advantages:
LSCO is the only approved college in Texas to partner with Yamaha Marine University (YMU). This partnership allows our program to have dealer-level access to Yamaha Marine business systems, engines, parts, and manuals. YMU provides current, market-relevant resources, products, certifications, and curricula for students interested in pursuing a career as a marine technician.
State of the art lab allowing students to practice on industry-recognized equipment and gain a working knowledge on how to meet industry standards.
Course Cost Summary
Upon acceptance into the Marine Service Technology Program at Lamar State College and prior to the first class day, the tuition must be paid in full. Payments may be made by check, money order, credit card, cash, or Letter of Intent from a current/prospective employer or other third party (such as South East Texas Regional Planning Commission (SETRPC), Texas Department of Assistive and Rehabilitation Services (DARS), Veterans Affairs (VA) and Workforce Solutions Southeast Texas (WSSETX)).
Prospective students whose tuition will be paid by an employer or third party must submit a Letter of Intent from the company/third party prior to the first-class day stating the company/third party will be paying the student's tuition for the course. The employer or third party will be invoiced for $500 upon receipt of the Letter of Intent.
*Placement in the class will not be guaranteed until the tuition fee is paid in full. If an employer or third-party partner has agreed to sponsor training and full payment is not received, the student will be responsible for the remaining balance plus any late fees that may apply.
Tuition
$500 - Marine Service Technology Program. Books and software are included in the cost of tuition.
Funding
The Lamar State College Orange Community and Workforce Education Department does not accept financial aid, federal student loans, or payment plans for the $500 tuition fee. Full payment is required prior to beginning the program.
There are some agencies in Southeast Texas that may help students with tuition and fees if they meet the agency eligibility requirements. You may contact the following agencies for more information:
Phone: (409) 899-8444 - 2210 Eastex Freeway, Beaumont, TX 77703
Contact: Christine Jackson, Case Manager,
cjackson@setrpc.org
Contact: Sara Torres-Garcia, Case Manager,
sgarcia@setrpc.org
, Se habla Espanol
Phone: (409) 600-2679 - 510 Park Street Suite 100 Beaumont, TX 77701
Phone: (409) 984-2021 - 4680 FM 365 Port Arthur, TX 77642
Phone: (409) 839-8045 – Beaumont: 304 Pearl Street, Beaumont, TX 77701-2411
Contact Heather Huknke, Veterans Resource & Referral Specialist,
heather.huhnke@twc.state.tx.us
Phone: (409) 839-8045 - Beaumont: 510 Park Street Suite 200, Beaumont, TX 77701-2411
Phone: (409) 962-1236 - Port Arthur: 4680 FM 365, Port Arthur, TX 77642
Phone: (409) 882-0302 - Orange: 2415 N 16th Street, Orange, TX 77630